Culture Days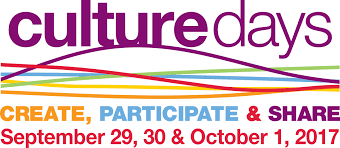 Culture Days
is a collaborative Canada-wide, volunteer movement to raise the awareness, accessibility, participation and engagement of all Canadians in the arts and cultural life of their communities.
Every year, on the Culture Days weekend, thousands of artists, individuals, organizations and communities offer free, hands-on, interactive activities that invite the public to participate "behind the scenes," to discover the world of artists, creators, historians, architects, curators, and designers at work. Go to
www.culturedays.ca
for events happening across Canada!
Here's what's happening in Port Moody
When?
Sep 29, 30 & Oct 1 | 9am - 9pm |
Where?
Throughout Port Moody
Follow the clues through the City of Port Moody on our second annual Scavenger Hunt! You'll see our public art collection, and some great historical sites along the way. Lots of riddles for you to solve, and you could win some great Port Moody swag. Grab a group of friends and sign up today!
Sep 30 10am-6pm, 
Oct 1 10am-4pm |
Where?
Port Moody Station Museum
Celebrate Canada 150 by painting a tile for
Port Moody's Canada 150 Mosaic Mural
, one of 150 being completed across Canada. The mural will depict the city's unique urban and waterfront environment, and honour Port Moody's history. The finished mural being installed at the Port Moody Recreation Complex after the current building renovations have been completed.
A Virtual Tour of Rocky Point Park
 |
When?
Sep 30 | 12 – 4pm |
Where?
Port Moody Civic Centre, Parkview Room
Have you had the chance to experience Virtual Reality? Stop in for a short demo of a new interactive VR experience showcasing the history of Rocky Point Park, and get the chance to try out some state-of-the-art hardware to explore Port Moody with Google Earth VR and the HTC Vive. 
Artists in Residence Finale
 | 
Where?
Inlet Theatre
Artist in Residence Ryan Mellors is an internationally renowned contemporary juggler who has been working on a whole new set of tricks and techniques during his residency at Rocky Point Park. Joined on stage by several other local talents, this will be a showcase of some of the best new material that he has been developing for the past year.
Never say nothing happens in your neighborhood. Here are many more events:
CLICK HERE FOR OCTOBER EVENTS.