The working with a realtor form aka
WWAR.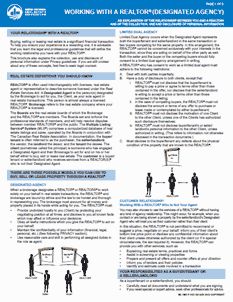 Once you have narrowed down your list of realtors you would like to work with, this is most likely the first form you may be required to sign.
Understandably, you still have a lot of questions and will be cautious about signing something so quickly.
Some of the questions you have may include:
This is a standard REBGV form signed to denote agency between a realtor and a client.
The "Working with a REALTOR" brochure explains the agency relationship between you (the principal) and your REALTOR and the collection, use, and disclosure of your personal information.
Why am I signing this form?
When you sign this form, it represents the fact that your agent has explained his relationship to you and also his level of commitment.
There are two forms of relationship between a realtor and client/customer. The client relationship is a more involved relationship.
Should you decide to use the realtor, you will be required to sign but that will probably not be an issue by then.
If you don't feel comfortable signing, please let your realtor know.
Are you obliged to sign this form?
A common misconception is that by signing this document people are committed to work with the same REALTOR for a set duration of time. This is not the Case.
Is it a contract between you and the realtor?
No..It is not. It is a Form/Agreement between you and your realtor denoting and defining agency.
The Agency Relationship is as follows:

1) Undivided loyalty. The Brokerage must protect the principal's negotiating position at all times, and disclose all known facts which may affect or influence the principal's decision.
2) To obey all lawful instructions of the principal.
3) An obligation to keep the confidences of the principal.
4) To exercise reasonable care and skill in performing all assigned duties.
5) To account for all money and property placed in a Brokerage's hands while acting for the principal.
Will I need a lawyer to get me out of this form?
No you don't.
If you sign it and you don't like that realtor...What can you do?
After you sign this form, and you feel your realtor is not adhering to Agency rules, please speak to your realtor and/or call his/her Managing Broker.
What if another realtor showed you a place and you like the place?. What do you do?
Out of consideration, if your realtor has worked diligently and tirelessly to show you properties, please contact him/her to let him/her know.
Real estate transactions are among the largest financial investments that most people make.
When a relator requests  that you sign this form,It is to acknowledgement that they have explained the various forms of agency representations available to you.
It is particularly important where the buyer is not represented because often they are not aware of what that means – the brochure is a tool to explain what form of agency representation the realtor will be offering you or the level of commitment that you would expect as a client or a customer. 
A trained professional can help make the experience pleasant and rewarding. In fact, with the assistance of a real estate professional, property sells faster and for a higher price.